IDPE  is a one stop engineering firm providing solutions benefitting a product's manufacturing life cycle. We love solving problems at the different levels of this cycle and have experience designing, implementing and validating a great variety of industrial solutions. Our strength is our core value: we use an holistic approach to find, validate and help execute the optimal manufacturing strategy, hereby creating maximum competitive advantage for our clients.
Select your service profile from the list below or consult the IDPE chart to find out more about our services and how we can be the right fit for you:
Increase productivity/improve quality / reduce lead time
Modernize manufacturing thru IT/automation
Buy/design new machinery
Redesign or improve a product or process
Start up a new manufacturing facility
Perform feasibility studies/provide training
Implement and manage engineering projects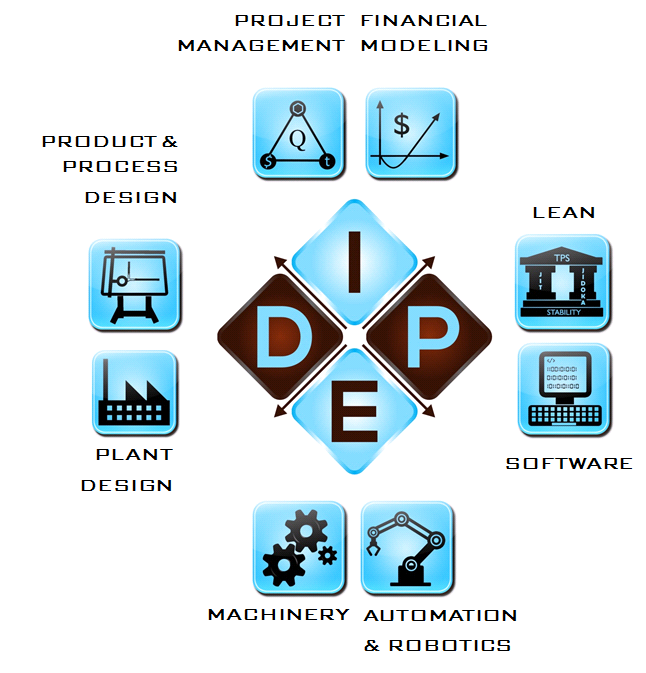 PROJECT MANAGEMENT:
A successful project is well constraint, fast, executed within budget and delivers top quality at all levels. In handling aerospace projects from definition phase to final sign off, we use a combination of traditional and project-specific techniques to optimize results.
FINANCIAL MODELING:
Aerospace projects often include high investments, long term demand and cost projections and hence involve substantial risk. We build custom financial models resulting in key financial indicators, providing essential value to the decision making process.
LEAN:
Lifelong zealots of Lean, from Henry Ford to Toyota's Production System, we advocate and put to practice the power this philosophy can bring to an organization. Specialized in Lean for aerospace, we enjoy joining your team on the rewarding lean journey. Services include: 3P, kaizen, workshops and training, lean product & process design, equipment for lean.
SOFTWARE
We see software as a powerful tool to support a design and/or manufacturing business. We write easy-to-use applications for repetitive tasks, data processing and visualization or integration with your ERP system. For bigger projects we work with specialized partners and act as integrators.
AUTOMATION & ROBOTICS
Sometimes a process requires automation or robots to meet throughput, precision or quality targets. Combined with Lean manufacturing and software, automation can lift your operation to the next level of efficiency. While we enjoy hands-on robotic programming and fine tuning control systems, our strength lays in advancing clients' operations by providing total solutions: outlining automated systems and turning them into reality.
MACHINERY
The right machine for the job can make all the difference. We support companies through all the steps: specification, purchasing, engineering, installation and acceptance. The right machine can also be a solid competitive advantage and a true asset. Our experience spans a wide range of machinery types including milling centers, shot peen and blast machines, heat treatment equipment and processing lines.
PRODUCT & PROCESS DESIGN
Cost leverage is highest at the very beginning. We practice concurrent engineering from day one and use powerful techniques (3P, DFSS, modeling & simulation, QFD) to obtain the optimal product-process combination, at the lowest cost, and fast.
PLANT DESIGN
With one $100M state-of-the-art facility in our realized projects portfolio, we welcome larger projects in which several of our services can be combined to achieve cost efficiency and performance at the entire facility level. Specific services include -but are not limited to- plant layout design, operational analysis, flow and value stream optimization, visual management and manufacturing system architecture.